Row CropTM, Compost Spreader / Top Dresser

updated March 16//2016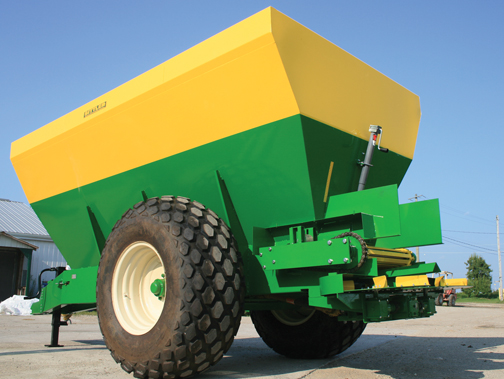 Row Crop, shown above has a 13 Cu yard capacity. Dual axle available upon request.
New "Row Crop" Compost/Mineral Spreader
Reliable, efficient, economical, low-maintenance, and long-lasting. Spreads wet /dry lime, compost, peat and other minerals. Features a new improved powerful discharge mechanism that provides consistent, even distribution of a wide variety of materials. Hhydraulically driven vario-speed apron chain will discharge any material including wet and dry compost, as well as dense minerals; Keeps that product moving; extra wide multi-speed discharge spinners; heavy-duty construction built for rugged terrain; and easy, one-person operation. New features include faster discharge, up to 13 cu yds in 3.5 minutes, pto driven spinners, single axle with large flotation, heavy duty, rugged tires or dual axle available to suit your needs. Hhydraulically driven apron chain, 13 Cu yard holding capacity with spreading width of 45- 50 ft. All machines come with one year warranty.
Sittler Compost/Mineral Spreader * Épandeuse de compost et de chaux Sittler
Dual Axle available upon request. Smaller tires fit between vegetable crops. Dry compost with straw is used to demonstrate the spreader width. Sittler Compost/Mineral Spreader * Épandeuse de compost et de chaux Sittler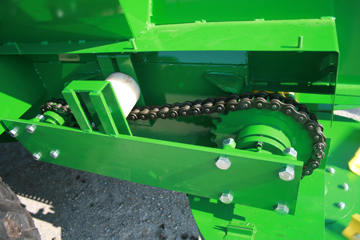 Row Crop, shown in all images.
For Minerals, Wet & Dry Compost
Extra Wide Multi Speed Discharge
PTO Driven Spinners
Heavy Duty Construction
New Single Axle or Dual Axle .
13 Cu Yard Holding Capacity
One Man Operation
Easy, Safe
Reliable, Available & Affordable
Using the Sittler Compost Mineral Spreader is an easy way to fortify and enrich your soil. Applying compost with minerals to the soil helps feed microbes which in turn break down crop residuals and help deliver nutrients to crops. The new apron chain design is more effective than a belt in moving product along. Works under a wider variety of conditions remains in position regardless of product being spread.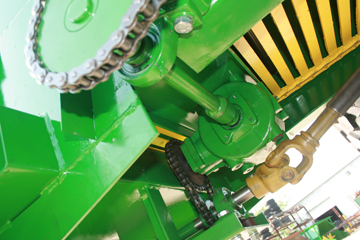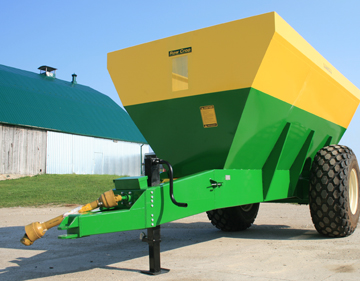 Sittler manufacturing has been designing and building machinery for over 35 years. Quality, affordable craftsmanship with innovative design.

To order, or for more information please email: sales@globalrepair.ca, or call 1-866-271-0719, 1-416-686-3690,
fax 1-416-686-1744

This site is copyright protected and may not be reproduced in whole or part, without written consent from the webmaster. Copyright © 1996-2017 Global Repair LTD