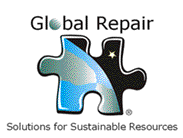 International Marketing Office for Sittler Compost Equipment



































Compost Turner 1014, Global Repair Compost Equipment by Sittler
updated Dec 3/2023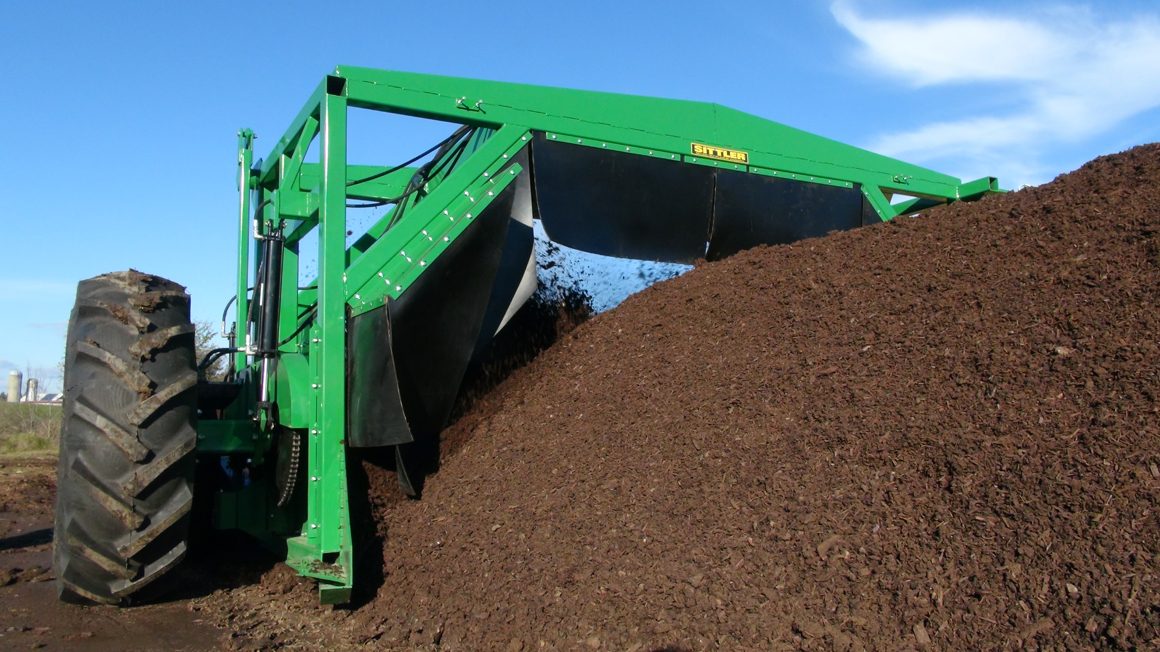 So What's new with the Global Repair Sittler 1014 Compost Turner?
We just can't stop improving. With a larger diameter drum, and a fortified drive wheel this new improved rugged beast is ready to turn compost in the most stubborn wet conditions. With changes in weather patterns and intensified precipitation every compost operator wants to get that product moving in a soggy wet spring or fall. The Global Repair Sittler 1014 is tough and durable and won't let you down when the going gets rough. With additional safety flaps to protect from projectiles you're ready to roll. All machines come with a one year warranty.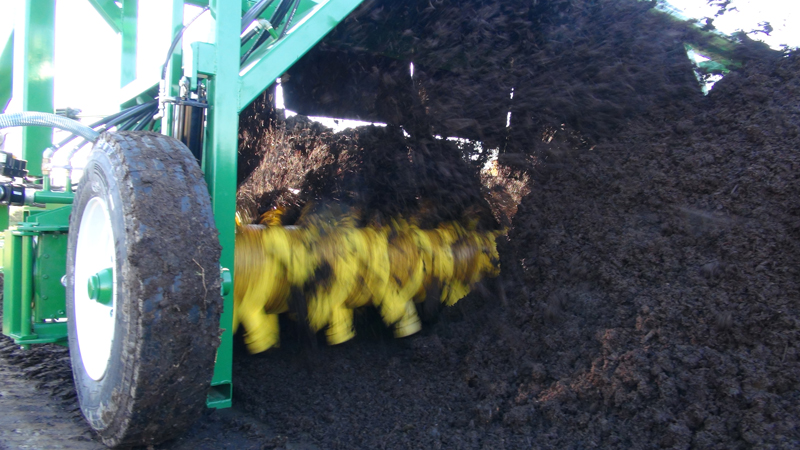 The Global Repair Sittler 1014 Compost Turner has the power to to turn wet compost.
The NEW Global-Repair Sittler 1014 windrow turner is designed for high volume organics recycling, landfill diversion and bioremediation. With a larger heavy-duty drum drive shaft, larger rotor, this rugged machine offers a capacity of up to 2700 cubic yards/hour, turning 45 cubic yards per minute. The hydraulically operated outside drive wheel has been fortified for adverse conditions and can be raised and lowered as required to eat through heavy loads.
Dual flap protection for both sides and across the top provides additional operator safety. The new shield adds dual protection on the tractor side from projectiles. The dual flap guard can be retrofitted to existing models. The guard is easy to install and requires 2 workers for installation. The 1014 Global Repair Sittler compost turner has proven thorough mixing and clean-up behind the drum preventing anaerobic build-up.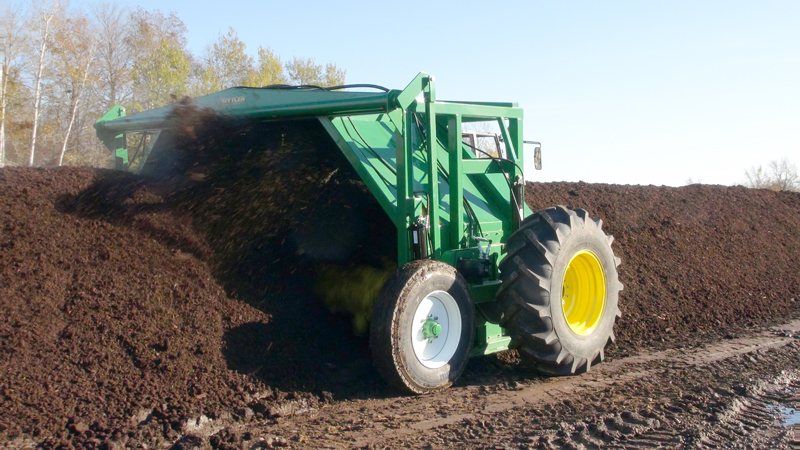 The Global-Repair Sittler 1014 Compost Turner creates a uniform peaked windrow.
Powerful, reliable, efficient, economical, low-maintenance, and long-lasting. Extra-hardened, replaceable steel blades are uniquely positioned on the drum to allow for complete blending right to the base of the windrow. Material from the outside is brought inward and from the bottom to the top forming a peak position, allowing the windrow to have a chimney effect for CO2/oxygen flow.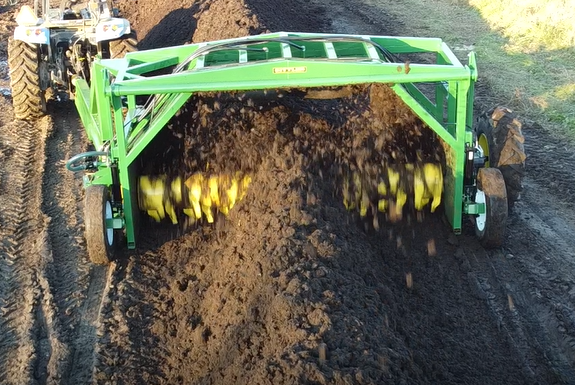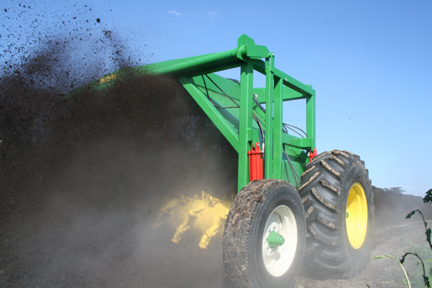 Global-Repair Sittler Compost Windrow Turner Model 1014, shown above, is ideal for large farm, municipal and industrial composting, organics recycling, bioremediation and landfill diversion.
With high performance, thorough mixing, incomparable capabilities and efficient, reliable, low-maintenance this durable compost turner offers value and performance. The 1014 compost turner comes with standard watering system and remote water shut-off. The new Sittler 1014 compost windrow turner can be shipped on a standard flatbed or high-cube container.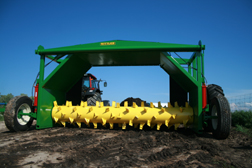 Standard water spray system with galvanized elbows.4 water spray nozzles inside the compost processing area, known as the tunnel, allow for appropriate adjustable moisture to be applied to the compost. For more information on our watering system please go to our Compost turner page.
Special housing encloses the bearings and shaft to protect the mechanisms from dust and debris.
Right hand shield is removable. PTO – right hand end is a shear bolt arrangement with shear bolt protection.
Threading frame on the compost turner allows the operator to raise and lower the compost cover or fleece. The windrow turner has a dry roller which rolls by friction. Compost covers help retain moisture,repel excess precipitation that causes anaerobic conditions, improve microbial breakdown and reduce odours.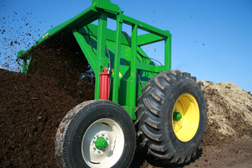 The Global-Repair Sittler 1014 compost turner cleans up everything in the compost windrow right down to the bottom.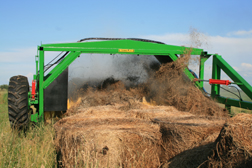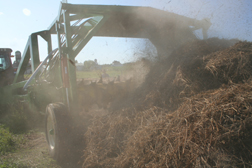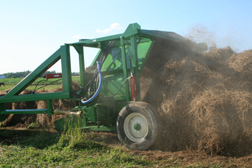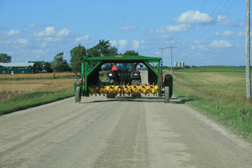 Does this thing work? This Global-Repair Sittler compost windrow turner 1014 ate through double rows of aged, wet, round bales. The 1014 windrow turner can be transported locally down side roads or for distance with a flat bed. Technical support, including compost database calculations and consultations for making quality compost available. All machines come with one year warranty.
Compost Organics recycling, Landfill diversion, Bioremediation, Compost feedlot manure , compost dairy manure, compost broiler manure, compost layer manure with a Global-Repair Sittler compost windrow turner. The ideal solution for manure handling, composting animal waste, composting bio solids, composting crop residuals, or for any other organic waste recycling, bio-remediation and landfill diversion. The 1014 Sittler Compost windrow turner is available through Global Repair.
Sittler manufacturing has been designing and building machinery for over 35 years. Quality, affordable craftsmanship with innovative design.

To order, or for more information please email: sales@globalrepair.ca, or call 1-866-271-0719, 1-416-686-3690,
fax 1-416-686-4220

This site is copyright protected and may not be reproduced in whole or part, without written consent from the webmaster. Copyright © 1996-2023 Global Repair LTD

Compost equipment, compost turner, compost windrow turner, windrow turner, compost feedlot manure , compost dairy manure, compost broiler manure, compost layer manure, manure handling, compost animal waste, compost biosolids, organic waste recycling, bio-remediation, landfill diversion, crop residuals, Compost Organics recycling, Landfill diversion, Bioremediation,1014 Sittler, Global Repair Global-Repair