The new Sittler 512 compost windrow turner has an enhanced drum design improving performance. The new larger drum, with shorter, wider, reversible blades, provides even more efficient clean up to the bottom of the windrow, further preventing anaerobic layers from accumulating.
Improved compost turning enhances the movement of organic matter and increases aeration. With greater windrow turning capacity, the unit is able to tackle more densely packed areas. The enhanced compost turning motion creates a sharper peak with improved CO2/Oxygen flow.
The compost drum change was a result of positive client feedback from the new efficient 1014 compost turner performance. The change allows operators the opportunity to have similar performance to the larger 1014 windrow turner with a unit suited to a lesser volume.
The new 512

compost turner

has proven performance and client satisfaction. Operators have described the new 512

windrow

turner as having an easier turn, with less tractor resistance and engine stress, moving compost more thoroughly, forming a sharper peaked windrow that breaks down more efficiently, making a better quality compost. All Sittler

compost

turners are now enamelled with a more abrasion resistant finish and come with a 1 year warranty.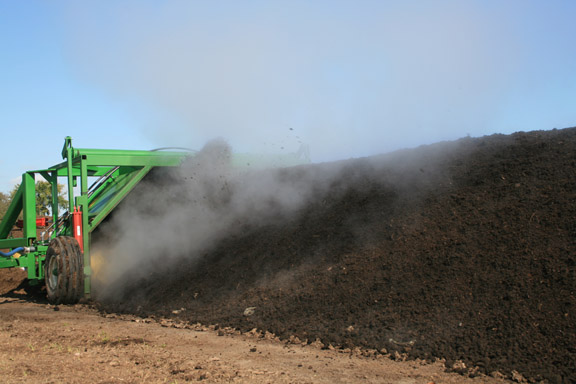 Reliable, efficient, economical, low-maintenance, and long-lasting. Extra-hardened, replaceable steel blades are uniquely positioned on the compost drum to allow for complete blending right to the base of the windrow. Material from the outside is brought inward and from the bottom to the top forming a peak position, allowing the windrow to have a chimney effect for ideal CO2/oxygen flow.
The compost turner folds conveniently for shipping.
Rectangular box for connector-3/8x6 in front, 1/4x12 on side enclosed for protection gives more strength and stability. Low swing cylinder. The 2 rubber flaps, one on each side contain compost is now divided for faster feed in of the compost. 2 front scrapers keep the compost windrow uniform.
Hydraulics allow the tractor to fit snug against the compost windrow.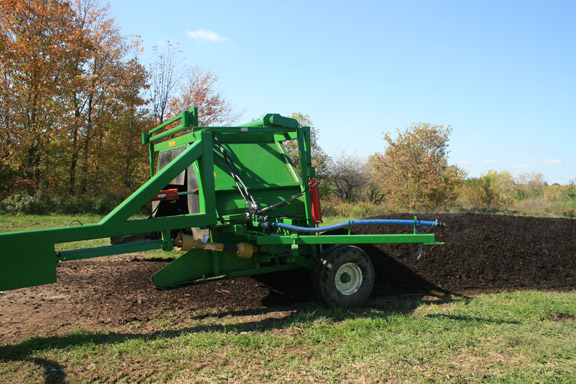 Compost water injection spray system with galvanized elbows. 3 water spray nozzles inside the compost processing area, known as the tunnel, allow for appropriate adjustable moisture to be applied to the compost. For more information on our watering system please go to Sittler compost water wagon.
Special housing encloses the bearings and shaft to protect the mechanisms from dust and debris.
Right hand shield is removable. PTO – right hand end is a shear bolt arrangement with shear bolt protection.
Threading frame with roller allows the fleece compost cover to be raised and lowered while the compost is turned. Compost covers help retain and repel moisture as required, shed UV light and protect microbes.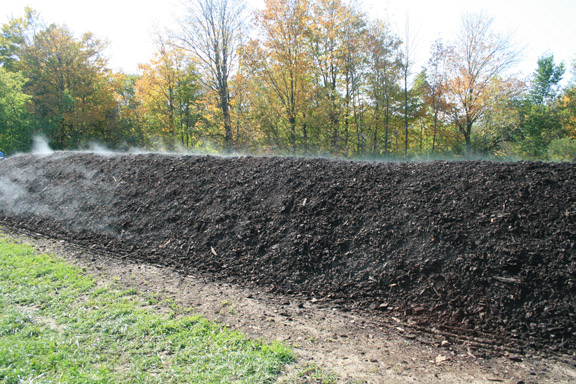 The compost windrows have a sharpened peak for improved oxygen flow and shedding of excess water.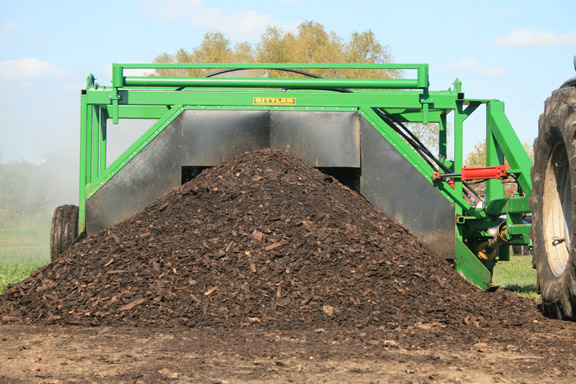 The front middle flap is divided into 2 sections for easier flow through the compost turner.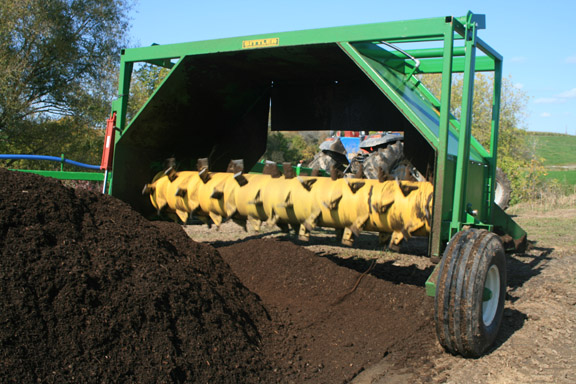 There is a 5000 LB capacity spindle holding the wheel 3.5 x 18"cylinder for lifting the compost windrow turner.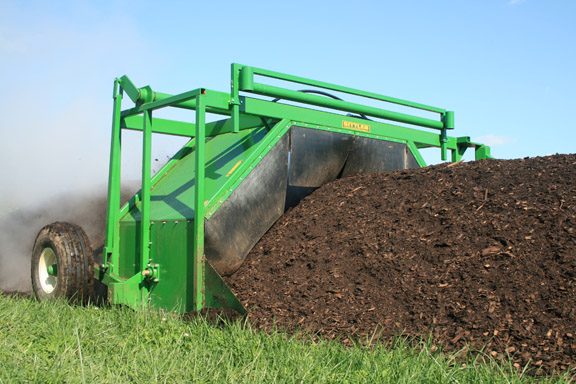 Technical support, including database calculations and consultations for making quality compost available. All compost turners come with one year warranty.
Compost feedlot manure , compost dairy manure, compost broiler manure, compost layer manure with a Sittler compost windrow turner. The ideal solution for manure handling, composting animal waste, composting bio solids, composting crop residuals, or for any other organic waste recycling, bio-remediation and landfill diversion. The 512 Sittler Compost windrow turner is available through Global Repair.
Sittler manufacturing has been designing and building machinery for over 35 years. Quality, affordable craftsmanship with innovative design.

To order, or for more information please email: sales@globalrepair.ca, or call 1-866-271-0719, 1-416-686-3690,
fax 1-416-686-4220

This site is copyright protected and may not be reproduced in whole or part, without written consent from the webmaster. Copyright © 1996-2023 Global Repair LTD, Compost equipment, compost windrow turner, compost feedlot manure , compost dairy manure, compost broiler manure, compost layer manure, manure handling, compost animal waste, compost bio solids, organic waste recycling, bio-remediation, landfill diversion, crop residuals, 509 Sittler, Global Repair